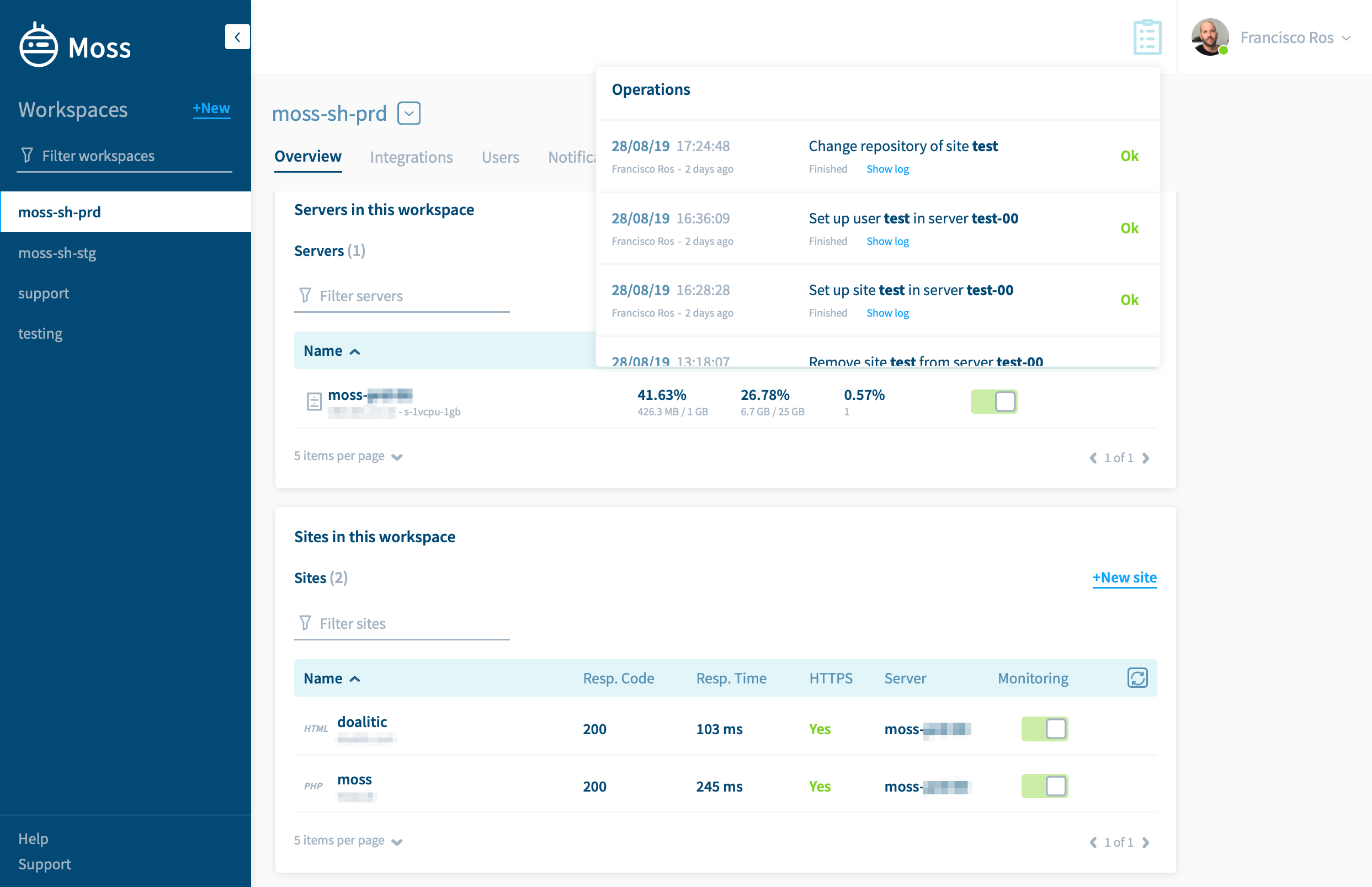 The new Moss is here
Two years ago we launched Moss commercially. That was our first attempt to help web developers manage their servers and sites so that they could focus on their business and build great applications. Since then, we've been learning from our customers and evolving Moss in accordance.
Thanks to this continuous learning process and the effort of our team, now I'm proud to announce our new version of Moss. A major update that puts the focus on the unique features that set Moss apart: real-time visibility, security, and integration with 3rd-parties.
In order to achieve this, we've built a brand new web application from scratch. A lot of effort has been made in design and user experience to let you do more with less hassle. We've also updated most of our backend in order to support the most salient features of Moss. You can read a short summary of the changes in our Changelog.
Real-time visibility
You can see in real-time what operations Moss is performing. In particular, who in your team triggered the operation, when it started, and what task is currently in progress.
You also have access to the full log of every operation. E.g. this helps you debug your failed deployments or any other issue you might face in your servers or sites.
Security
We've always taken security seriously, and our new version is no exception. Unique features like agent-less management, minimization of attack surface, unattended security updates, or automatic firewall management (among others), make Moss a perfect partner for security-aware users. The new Moss further improves the implementation of these functionalities.
Integrations
We understand Moss is more useful as it integrates with more tools and providers in your workflow. Moss saves you more time and gives you greater value as it connects to more 3rd-party services.
At this moment Moss integrates with Amazon EC2, DigitalOcean, Google Cloud, Vultr, GitHub, GitLab, Bitbucket, and Slack. We're already working on additional awesome integrations.
The road ahead
This release is a stepping stone to our ultimate goal of building the best tool for web developers and website owners. We still have a long road ahead, but now we have the necessary building blocks to keep evolving Moss at a much higher pace.
In fact, in the next weeks we'll be releasing several interesting features which are already half-baked – we're positive you'll find them valuable. Furthermore, we're preparing a big surprise for you all. I cannot tell more yet, so please stay tuned!
If you don't have an account yet, sign up at Moss or browse our updated Help Center.